KORAD, INT, N, UCH, NW 94
Magica B. av Nangijala
"Maggie"
pedigree
født 23/9-91 død: 25/4-04.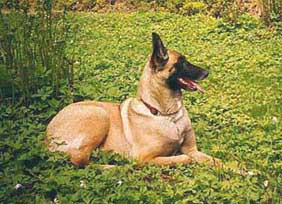 Photo: Kjersti Johansen
INT, N.UCH., NV-94

Swed. CC, BOS, CACIB

CC, BOB, CACIB

CC, BOS, specialshow

CK in specialshow at the age of 9, the 10/6-00

Working and test results:

KORAD 223p.

Obedience class 3:

Class C tracking:

Mother to our J-litter.

Maggie sovnet stille inn rett før midnatt hos dyrlegen.

Hun hadde fått hjerneslag tidligere på ettermiddagen.

Hun ble 13 år og 1 mnd. gammel.